This is a painful time around the world. It's unfathomable that tragedies suc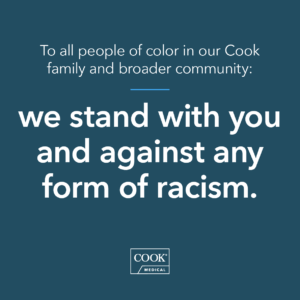 h as the deaths of George Floyd, Breonna Taylor and Ahmaud Arbery continue to happen. To all people of colour in our Cook family and the broader community: we stand with you and we support you. We also want to do more than offer words of support and comfort. We want to be part of the solution.
Our Cook Group purpose statement says that we exist to help people and communities reach their full potential. We take that seriously. In the past, that has meant helping small communities, like Bloomington, Indiana and Canton, Illinois, avoid an economic downturn. Today, that purpose means building pathways to upward mobility, personal growth and career fulfilment for the most vulnerable people in our community.
In the past few years, we have put particular emphasis on programs in the United States that remove barriers to education, jobs and housing. We have made it possible for people to join Cook and earn a high-school diploma at the same time. Our employees can get free academic degrees up to a master's degree. We're working on affordable housing in the French Lick and West Baden communities. We have partnered with local organisations focussed on bringing career opportunities to those experiencing homelessness, substance use disorder or who are transitioning out of prison.
We're proud of the work we've done so far, but moving forward we will do more.
First, our efforts in the past have reached parts of our communities, but we have not been intentional about supporting people of colour specifically. We will do better at that in the future.
Second, a lot of our work in these areas has been focussed in Indiana, where our headquarters are located and where we have the most resources and the longest-standing relationships. That will also change. Our expectation is that moving forward, no matter where we have a facility or a Cook presence, we are deeply connected with and committed to all of our communities.
Racism has no place at Cook. It does not align with our values, our purpose or our business. We promise to listen and do whatever we can to improve our ability to serve people and our communities.
The Cook Group and Cook Medical Executive Teams