Brisbane, Australia. — Cook Medical Australia recently partnered with Multicap Limited to provide employment opportunities for people with a disability. This is a significant milestone for both Cook Australia, and for new employees, Alex and Jeffrey, as they continue their journey of employment with the support of Multicap.
'At Cook, we are committed to diversity, equity and inclusion and providing meaningful opportunities for all people to participate in the workforce,' said Dr Samih Nabulsi, vice president and managing director, Cook Medical Australia. 'Our values are aligned with Multicap and we believe that everyone should have the opportunity to develop their independence, confidence and skills in a safe, social and supportive workplace.'
Multicap has been supporting people with disability to live lives of possibility and opportunity for almost 60 years. Alex and Jeffrey had been employed at Multicap's Monte Lupo Gallery Café for several years, which is part of Multicap's Work Readiness and Employment pathway. At the café, Alex and Jeffrey developed confidence and learned many valuable skills, including customer service, teamwork and managing tasks, all of which are transferrable to Cook.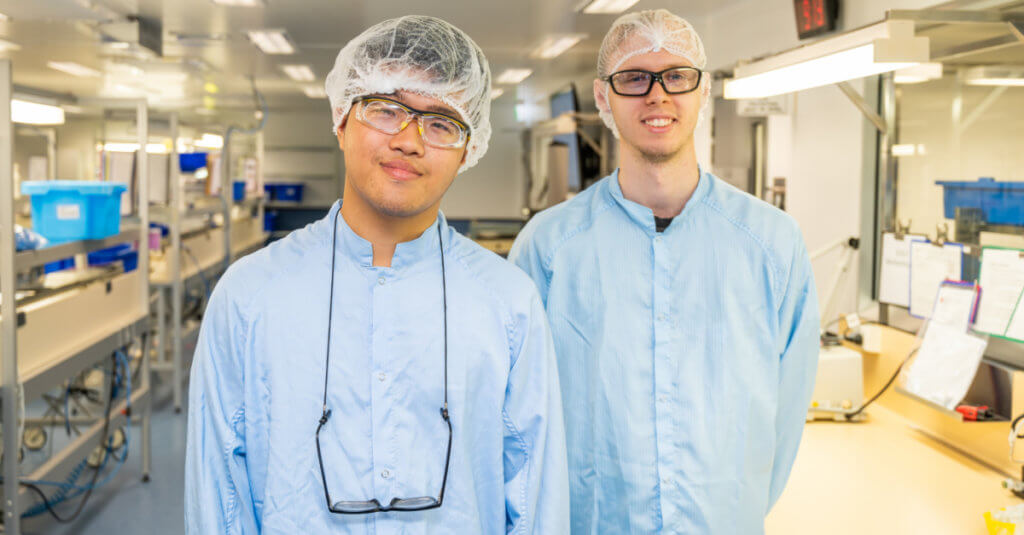 New employees Jeffrey and Alex started with Cook Medical as part of a new partnership with Multicap.
Chief Executive Officer of Multicap, Joanne Jessop, said the partnership with Cook Medical Australia was a fantastic outcome for Alex and Jeffrey, and Multicap's Employment services.
'We are all so thrilled to see Alex and Jeffrey thriving in their new roles at Cook. They are paving the way for more of our Supported Employees to explore new opportunities in the workforce, and it's so exciting to see,' Jessop said.
Today, Alex and Jeffrey work as production assistants in IVF Manufacturing. 'We have task rotations which makes the job interesting plus working in a cleanroom is different,' said Alex. 'We can go from manufacturing, putting tubing and filters together, to packaging the product and then finally sealing the pouch with the product in it.'
'I enjoy working at Cook and I get to walk to work every day because I live close by.' Jeffrey stated.
'I do too,' Alex added, 'I like and enjoy what I'm doing. My parents are happy with me, and I'm happy too.'
Chris Cutter, manufacturing supervisor, who was integral to establishing the partnership with Multicap, said the project has been a success, 'Alex and Jeffrey are dedicated employees and they welcome every challenge. They've been progressing really well with the increased number of hours and tasks we've given them to do and we look forward to identifying ways we can expand this partnership.'
It's been a few months since Alex and Jeffrey joined the Cook Australia team and it's a decision both they and Cook are proud of.
About Cook Medical
Since 1963, Cook Medical has worked closely with physicians to develop technologies that eliminate the need for open surgery. Today we invent, manufacture and deliver a unique portfolio of medical devices to the healthcare systems of the world. Serving patients is a privilege and we demand the highest standards of quality ethics and service. We have remained family owned so that we have the freedom to focus on what we care about: our patients, our employees and our communities.
Cook Medical Australia has more than 600 employees in manufacturing, distribution, engineering and technical specialties. The company exports more than 90% of its locally manufactured products to medical providers worldwide with devices across two product families: endovascular grafts for the treatment of vascular disease and in vitro fertilisation to assist those trying to conceive a child.
For more information, please visit www.cookmedical.com.au and like us on Facebook and LinkedIn.
About Multicap
Operating for almost 60 years, Multicap is one of the most highly regarded disability service providers in Queensland and northern New South Wales.
We are known for the range, breadth and excellence of our services, our approach to customer safety, and the outcomes achieved by the people who choose to be supported by us.
Multicap offers an individualised range of supports for people of all ages; in areas such as home and well-being, community and lifestyle, education and employment, creative arts, transport, positive behaviour support, and much more.