Brisbane, Australia– Cook Medical recently received approval to supply a new device, the EchoTip® Insight™ Portosystemic Pressure Gradient, in Australia. The EchoTip Insight is an endoscopic ultrasound device that allows endoscopists to measure portal pressure. The EchoTip Insight currently has limited release pending completion of a physician training session, which Cook will begin to offer in October 2020.
Using the novel EchoTip Insight, endoscopists can support a new procedure to perform direct measurement of the portal and hepatic venous pressures under endoscopic ultrasound (EUS) guidance. This allows physicians to obtain direct pressure measurements of the portal veins and the hepatic veins in order to allow physicians to diagnose portal hypertension.1 For added simplicity, EchoTip Insight offers physicians the opportunity to perform an alternative, less invasive procedure that can be coupled with a routine oesophagogastroduodenoscopy (OGD) examination to help evaluate suspected liver diseases.2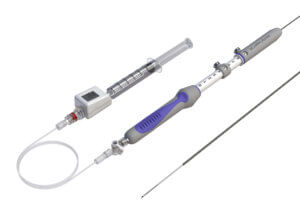 Cook Medical's EchoTip® Insight™ product
Conclusions from a recent human pilot study indicate that the technique of endoscopic ultrasound portal pressure gradient measuring (EUS-PPGM) using a 25-gauge needle and compact manometer setup is feasible.3 This finding may represent a promising advance for procuring valuable information in the management of patients with liver disease.
'We are very pleased to receive this authorisation to market EchoTip Insight,' said Barry Slowey, president of Cook Medical's Endoscopy specialty. 'As we work to improve the lives of patients with portal hypertension, we are committed to innovating the best technologies. Physicians will have one more tool in their toolbelt to better understand a patient's treatment options.'
For more information about EchoTip Insight and other endoscopy products, visit cookmedical.eu/endoscopy.
About Cook Medical
Since 1963 Cook Medical has worked closely with physicians to develop technologies that eliminate the need for open surgery. Today we are combining medical devices, biologic materials and cellular therapies to help the world's healthcare systems deliver better outcomes more efficiently.  Headquartered in the United States, we have manufacturing locations in Denmark, Ireland and Australia. We have always remained family-owned so that we have the freedom to focus on what we care about: patients, our employees and our communities.  For the latest news, follow us on Facebook and LinkedIn.
References
Samarasena JB, Chang KJ. Endoscopic ultrasound-guided portal pressure measurement and interventions. Clin Endosc. 2018;51(3):222–228.
Trikudanathan G, Pannala R, Bhutani MS, et al. EUS-guided portal vein interventions. Gastrointest Endosc.2017;85(5):883–888.
Huang JY, Samarasena JB, Tsujino T, et al. EUS-guided portal pressure gradient measurement with a simple novel device: a human pilot study. Gastrointest Endosc. 2017;85(5):996–1001.
This media release is for health care professionals only.