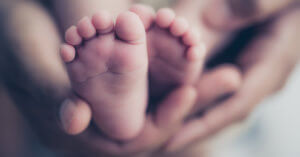 Brisbane, Australia. — Employees at Cook Australia who are eligible for the government funded paid parental leave scheme will now receive full pay under a new parental leave policy launched today.
Effective from 1 April 2021, the new policy will top up the difference between the federal scheme's minimum wage and an employee's base pay. This consists of up to 18 weeks' pay for mothers or employees who have the primary responsibility for the care of a newborn or newly adopted child and up to two weeks' pay for dads or partners. Superannuation will also be paid on the top-up amount.
'We are pleased to make enhancements to our parental leave policy to ease the financial needs of growing families,' said Kellie Watt, regional human resources manager – Australia, Japan and Korea. 'As we continue our quest of being an employer of choice, we are constantly looking for ways to support our employees, particularly when it comes to their health and wellbeing inside and outside of work.'
Where the job permits, Cook Australia also offers flexible working arrangements to support employees as they transition back to the workforce after parental leave.
'We want to empower our employees to reach their full potential, and with the challenges of balancing career and family, this transition plan helps new parents do just that,' Watt continued.
Employees will continue to have access to 10 'keep in touch' days, which may include participation in a planning day, conference or training, and the opportunity to extend unpaid parental leave by a further 52 weeks.
The new policy comes off the back of employee feedback and a review of the benefits package for current and prospective employees.
Other benefits include private hospital cover for employees and their immediate families, a confidential employee assistance program, and regular wellbeing initiatives.
About Cook Medical
Since 1963 Cook Medical has worked closely with physicians to develop technologies that eliminate the need for open surgery. Today we are combining medical devices, biologic materials and cellular therapies to help the world's healthcare systems deliver better outcomes more efficiently. Headquartered in the United States, we have manufacturing locations in Denmark, Ireland and Australia. We have always remained family owned so that we have the freedom to focus on what we care about: patients, our employees and our communities.
Cook Medical Australia has more than 600 employees in manufacturing, distribution, engineering and technical specialties. The company exports more than 90% of its locally manufactured products to medical providers worldwide with devices across two product families: endovascular grafts for the treatment of vascular disease and in vitro fertilisation to assist those trying to conceive a child.
For more information, please visit www.cookmedical.com.au and like us on Facebook and LinkedIn.