Brisbane, Australia – Cook Medical is pleased to announce its launch of a new Customer Portal to provide an enhanced digital and customer experience.
'The core focus of the Customer Portal is to provide convenience to our customers and offer them a simple, intuitive and efficient experience', said Ross Harvey, vice president, Global Supply Chain. 'In the era of the new normal, we believe it is important to harness our digital capabilities to deliver an enhanced experience at multiple touchpoints to our customers. Launching the new Customer Portal marked our cornerstone in that direction.'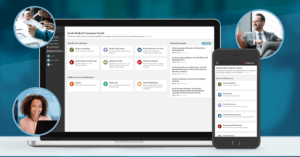 Imagery on the new Cook Customer Portal website.
The user-friendly Customer Portal offers many features; some vary depending on region, which gives customers information and interactive functions including:
Order history: View order status and shipment tracking
Live chat: Interact real-time with Customer Support and submit enquiries
Product availability: Find out what products are available to ship and lead times for other products
Product communications: Access Cook Medical product notification memos in the document centre
Account information: Update account information and invite new users
The Customer Portal has been launched in Australia, the United States and Europe, with plans to launch to Asia markets later this year. It is a key step in Cook's digital transformation and follows the launch of the Australian website in September 2020, highlighting local operations, manufacturing and R&D.
Interested customers can access the Customer Portal directly at mycook.cookmedical.com, or from the navigation menu of our Cook websites. A customer number will be necessary for access.
About Cook Medical
Since 1963 Cook Medical has worked closely with physicians to develop technologies that eliminate the need for open surgery. Today we are combining medical devices, biologic materials and cellular therapies to help the world's healthcare systems deliver better outcomes more efficiently. Headquartered in the United States, we have manufacturing locations in Denmark, Ireland and Australia. We have always remained family-owned so that we have the freedom to focus on what we care about: patients, our employees and our communities.
Cook Medical Australia has more than 600 employees in manufacturing, distribution, engineering and technical specialties. The company exports more than 90% of its locally manufactured products to medical providers worldwide with devices across two product families: endovascular grafts for the treatment of vascular disease and in vitro fertilisation to assist those trying to conceive a child.
For more information, please visit www.cookmedical.com.au and like us on Facebook and LinkedIn.