As a territory manager for the Vascular Division, Amanda works closely with our customers to manage hospital accounts, and day-to-day ensures product awareness, safety and access.
'The most rewarding part of my role is working closely with physicians as a procedural partner to individualise treatment for patients. I always try to approach every case like I would if one of my own family members was being treated. Being able to see the positive impact our products have on the lives of our patients does not get old,' Amanda said.
'It's more than just us. We are the face of Cook at the frontline, what our customers see. It is important to acknowledge there is a huge team behind the scenes that make our job possible. Working in unison is what sets us apart.'
Cook Medical employs more than 600 people in Australia and is a successful, growing, family-owned company. For Amanda, putting family and people first is everything.
'It is nice to work for a company with such integrity.'
'What really stood out to me is that Cook is a family-owned company and an Australian medical device manufacturer. As employees, we are treated as one big family, we share the highs and the lows together and just like most family, we stick together.'
'Recently, I was reminded of how lucky I am to work for Cook when my daughter needed a medical procedure. She was able to be seen by a specialist doctor and have her procedure done within a month because of the private hospital benefits that Cook provides to employees and their families. It is at times like these you realise how truly special our company is.'
Flexible work means different things to different people. With operations spanning a diverse range of field, office-based and manufacturing activities, Cook works closely with returning employees to define an arrangement that works best for the employee and the company.
Returning from parental leave after having twin daughters in 2018, Amanda started back at work for four days a week.
'I was given the opportunity to be a working mum. I know that sounds so simple, but with the support of my manager, my team and HR, we were able to set in place a plan that allowed me to come back to my role at Cook.
'I wanted the best of both worlds and Cook has enabled me to do that. It also sets an example for my daughters so that they know they don't have to choose between being a mother and having a career.'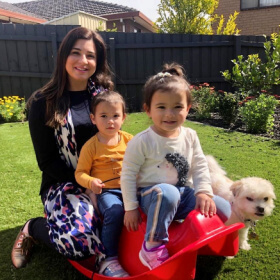 Amanda with twin daughters. 
Upon reflecting on the impacts of the pandemic, Amanda said that with both personal lives and professional lives being affected, it has been a juggle for many.
'This year, we have had to re-learn how to do our job during a global pandemic and learn very quickly.'
'It has been important to offer support, reassurance and empathy to our customers. They have wanted to know about our supply chain stability, product accessibility and the availability of case support—both remote and in attendance. What has been most important is focusing on their needs and ensuring they can meet the needs of their patients at such a sensitive and uncertain time.
Being based in Victoria has had some recent challenges.
'We call ourselves the 'state of the nation' here in Victoria. We have a great team, an amazing manager and the support of Cook. Every day I am given an opportunity to learn and I look forward to a very exciting future,' Amanda said.